This week I am having a closer look into the BC curriculum grade 12 for Social Studies. The variety of courses was a big surprise to me. There are 15 different courses within Social Studies 12, but not all high schools in BC offer all of them. If I had a choice I would like to teach 20th-century world history, comparative cultures, comparative world religions, genocide studies, human geography, physical geography, political studies, or social justice. I am curious if all courses are offered at a bigger high school and the courses with the most demand are actually being taught.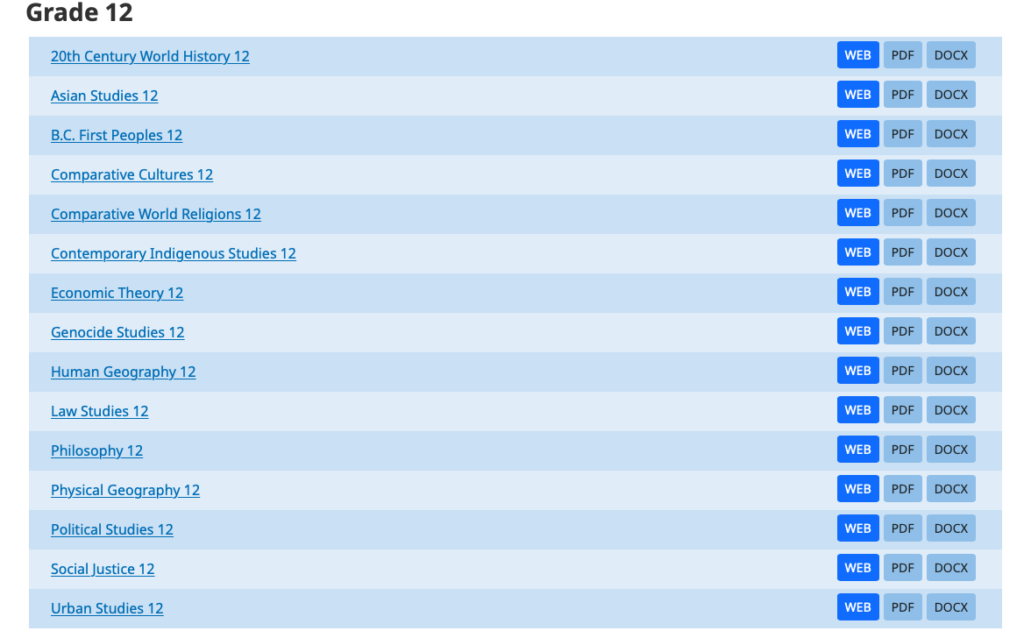 Picture: https://curriculum.gov.bc.ca/curriculum/social-studies
20th Century World History 12
In this post, I am going to explore potential topics for 20th Century World History 12. For authoritarian regimes, I would like to explore Cambodia and Pol Pot, Cuba and Castro, Germany and Hitler, and Italy and Mussolini.
For Germany and Hitler, I would like to watch the movie Sophie Scholl in order to look at resistance movements during World War II.
For the content section: civil wars, independence movements, and revolutions I would like to look at the Soviet Union (1917-21), the Iranian Revolution, and Vietnam (1945-75).
Other topics that interest me include but are not limited to genocide in Armenia, the Holocaust, genocide in Cambodia, espionage, suburbanization of the US, UN peacekeeping missions, waves of feminism, scarcity of goods in post-World War II Soviet satellite states, the European Union – supranationalism, free trade, and propaganda.
Photo: https://www.gpekix.org/news/event-highlight-kix-eap-webinar-curriculum-implementation-and-competency-based-learning